TOA GROUP is led by TOA SHIKOGYO CO., LTD. and TOA FUJIKOGYO CO.,LTD.
and has integrated all processes from receiving orders to delivery into a very streamlined online process. The flow for how this is done is shown below.

Sharing new ideas,
Creating new packages.
With different sections, each staff exchanges the new ideas, and responds to customer's requests in detail, creating new packages.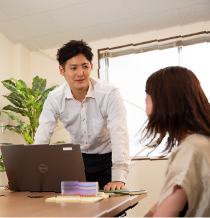 Developing new Technologies
and new materials.
Working on new themes and conducting daily research toward the development of unique technologies and materials.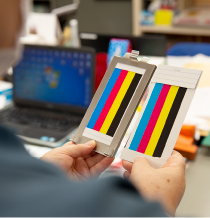 With a balanced DTP system,
Plate making is smoothly operating.
In order to meet customer's printing quality, plate making is very important. DTP operators endeavor to improve their skill every day.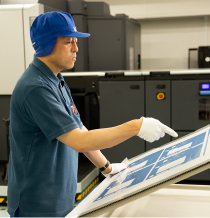 We can speedily handle printing
that requires high quality products.
Placing many different printing machines, such as off-set press, gravure press, silk screen press and automatic ink making machine make operation efficiently.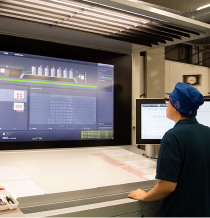 Pursuing the possibilities of digital
printing to provide new added value.
Introducing a new printing machine which we can offer to our customers a new value in printing.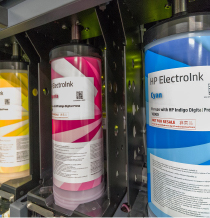 With various different postpress machines,
we produce high value-added packages.
From electronically controlled Paper cutting machines, Coating & Laminating machines, Hot stamping & Embossing machines and Gluing machines, these machines are operating efficiently.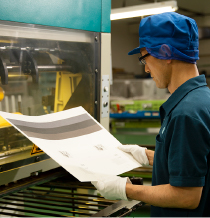 Thoroughing quality check,
we have many quality check machines
for customers demands.
From printed sheets to final products, we strictly check the product quality by skilled workers and inspection machines. If any defects are found, the problems are immediately fed back to QC dept. to prevent relapsing.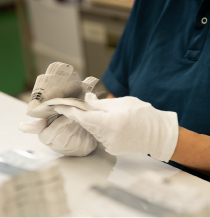 Responding to various demands,
Providing assembly operations.
We also provide a full range of assembly operations to meet additional customer needs to expand. We have clean production environment facility completely shut off from the outside air.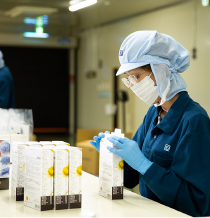 日本語